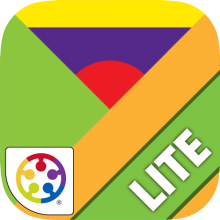 ColourCode Lite is a fun game about colors, shapes, order and orientation!
The object of the game is to re-create the image presented in each challenge. Tap the tiles you need and stack them up, one by one.
You can rotate the tiles by clicking on them and changing their order by using the button below the tile holder.
You've solved the puzzle when your tiles match the challenge exactly. Can you complete all challenges?
FREE version of the app with 16 challenges. The app is based on the original ColourCode game by SmartGames.
Download now: