Members receive complete access to all our games and challenges!
Keep track of your scores and build your place in the SGL Hall of Fame!
Become an exclusive beta-tester for new and upcoming games!
Become a member!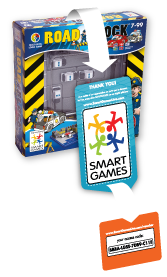 Soon every physical SmartGame will come with a SmartGamesLive voucher containing a unique code.
This code will grant you full access to SmartGamesLive and all of our games for one month!
Just quickly sign up for an account, activate your card, and you'll be playing!
About SGL membership
Voucher
Newest members