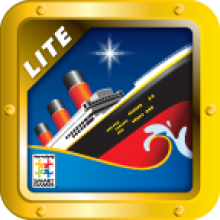 For a limited time only: 42 FREE challenges!
Play now 21 new challenges introducing a new element: floating ice.
Launch the lifeboats, patrol the water and rescue all the passengers who've gone overboard!
Titanic by SmartGames is a fascinating sliding puzzle with simple rules but with challenges that are surprisingly hard to solve.
"Titanic easily makes it onto the list of Best Puzzle Apps of 2012." - gottasolveit.blogspot.com
HOW TO PLAY
Move your lifeboats in such a way that all drowning passengers can climb in and be saved. When a sloop passes by someone in the water, the drowning man will of course save himself. It's this aspect that makes the gameplay particularly interesting, because it requires strategic insight to see which passenger has to be picked up by which particular lifeboat AND in what order this should happen. This last part is crucial, as once the lifeboat is full it must remain anchored to the spot. So, from that moment on, the fully-boarded boat becomes an obstacle for other possible rescue work. This makes Titanic a constantly changing maze of people and boats.
ABOUT THE APP TITANIC (LITE)
This App is based on the physical logic game "Titanic" from SmartGames and includes 42 free challenges and 4 levels of difficulty. There is also a paid version of this app with 204 challenges. Rescuing passengers starts out 'easy,' but becomes the more and more difficult, until players reach the 'extreme' level.
Download now: